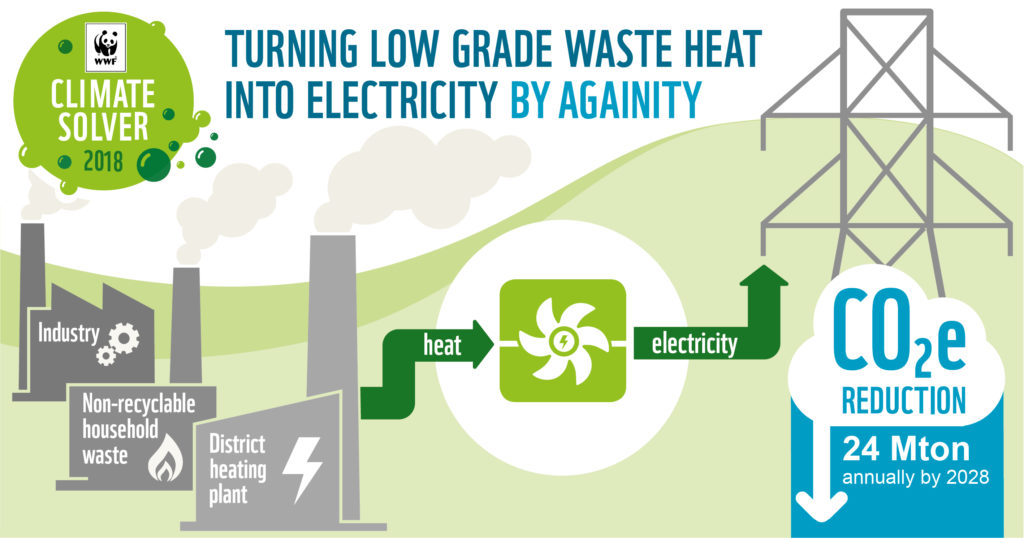 We turn your waste into electric power
From waste to value
Againity utilizes low-grade heat and converts it into electricity through a so-called ORC system (Organic Rankine Cycle). Thanks to an in-house developed patented turbine, the system can utilize heat down to 90 degrees Celsius – and still have a short payback time for systems down to 50 kW of electricity produced.
The heat source
The heat source can be anything from incinerated waste, wood chips or biogas, to waste heat from a gas turbine, Diesel generator or other industrial processes. At Againity we happily help with the technical layout and financial calculations of potential projects.
Simple installation
The system is delivered pre-fabricated and installed by a simple pipe connection of the heat source and a cable to the power grid. The system is fully automated and a TCP/IP connection allows convenient monitoring and remote control. The turbine system consists of high-quality components, designed to last long periods without maintenance.
System sizes
Againity offers seven standard sizes from 20 to 2500 kW electricity, but since the systems are built as modules they can be easily combined and the maximum power output is thus unlimited. Learn more about our various models under "Products".
Contact us today for a discussion about the opportunities in your plant!