Nevel AB, the Swedish arm of the Nordic energy utility infrastructure company Nevel Group has revealed that it will invest in an Organic Rankine Cycle (ORC) turbine from compatriot Againity AB to be installed at its biomass-fired district heating plant in Tibro, Sweden. Start-up for the 99.9 kWe ORC unit is scheduled for early 2022.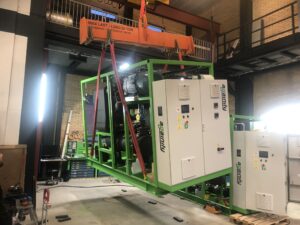 Nevel is a utility infrastructure company that offers "advanced industrial and municipal infrastructure solutions that are fit-for-purpose and future-proof." The Group currently operates more than 130 energy production sites and manages over 40 district heating networks in Finland, Sweden, and Estonia supplying around 1.6 TWh annually.
The ORC installation in Tibro, the value of which has not been disclosed, is expected to produce just over 560 MWh of electricity annually for self-consumption.
This will reduce electricity- and transmission costs for the heating plant while cutting carbon emissions, which is fully in line with Nevel's sustainability goal of investing in renewable energy to work for a carbon-neutral future.
We look forward to almost becoming self-sufficient in fossil-free electricity, and in this way support the local electricity grid by freeing up power that local industry can instead make use of, said Simon Knoks, Regional Manager at Nevel AB.
High efficiency with cogeneration
The ORC turbine has an installed generator power of 99.9 kWe and will be connected to the heating plant's biomass-fired hot water boilers. The electricity produced will follow the heat production at the heating plant and thus be highest during the winter when electricity demand and prices are also the highest.
According to Againity, cogeneration is very efficient and currently the most efficient fuel-based way of producing energy compared to producing electricity and heat separately. This means that the overall amount of carbon dioxide (CO2) emitted into the atmosphere is reduced.
In this case, cogeneration corresponds to a saving of up to 504 tonnes of carbon dioxide equivalents (CO2eq) per year when replacing European marginal electricity.
We are pleased that Nevel has chosen to invest in fossil-free electricity production and entrusted us to supply an ORC turbine to Tibro. With the Group's many heat plants around northern Europe, Nevel can make a significant climate contribution, remarked Elin Ledskog, Sales Manager at Againity.
For more information, contact:
Simon Knoks, Nevel AB
+46 73 393 13 02
Elin Ledskog, Againity AB
+46 705 29 32 23